In the age of digitization, every organization is depending on technology. Not only is it being used for conducting daily operations smoothly, but also for bringing growth in business. It can be said that business houses are taking the help of the Internet, in order to make their presence felt. Internet has proved to be an effective means of online marketing.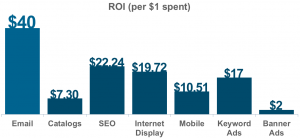 Same types of businesses have made it necessary for organizations to represent themselves in a unique way. In order to succeed in their niche area, organizations are taking a look into the various aspects of digital marketing. Organizations based in and around Montreal often take the help of a SEO company in order get an edge over their competitors. As the main goals of SEO are to increase the visibility and the ranking of a site, organizations often try to use SEO.
Social Media
Through social media channels businesses can interact with the audiences. Through the official brand page, businesses can easily build trust. They can post contents with links to the site. Clicking on the link can bring customers to the site. Eventually, they will purchase products or services. This, in turn, will bring growth and revenue for the business.